I have said once before that Ebaying is dangerous to your health. I find that it seriously has some addictive effects. First, there is a peculiar kind of pleasure at seeing your items bid on. The pleasure increases two-fold, three...four...as the number of bidders fighting for your items increase. Then to top it all off at the end of your listing, you have extra cash. Isn't the WWW great?!?
So, to make converts of you lot, and also to guide the not-so net savvy (yes, that's you) here is a step-by-step guide to setting up your own Ebay virtual store.
1.
Go to the Ebay Philippines main page.


2.
Register. It is absolutely FREE!
Please be truthful about the information you fill in. Ebaying is based on trust and policing the ranks. If you start by lying, then you have violated the basic principle which has made Ebay a multi-billion dollar enteprise.
3.
Choose the items you want to sell.
Usually, the easier ones to sell are books because buyers aren't really concerned about the item's physical condition. As long as all the pages are intact, then you have a good chance of getting rid of it in a few days. Best-sellers are recommended. Big names are good. You can also opt to list your obscure titles. Who knows?
"Pre-owned clothes" also enjoy brisk sales. As well as wallets, accessories and shoes. Who knew? People are always enthusiastic of bargains.
4.
Take photos.
You will need to take good, well-lighted photos of your items. For this, you need a digicam of course. Ebay hosts your photos for free! Up to 3 photos can be uploaded for each item.
5.
Describe.
Item description is an art. One must be persuasive, but not overly so. Otherwise your prospective customers might suspect you're being too enthusiastic. So stick to the facts. If your item is in mint condition, say so. If it has a few scratches, creases or tears, indicate where they are on the item. Choice of words is also important. "Pre-owned" certainly sounds better than "used" or "second-hand" right?
6.
Now you are ready to Sell.
Once you have registered, you will see four boxes on top of your screen. Click on Sell. Here you will have menus to indicate what kind of items you're selling. Books? Women's clothing? Computer stuff? Videos? CDs? Everything Else?
Then fill out the item title and description. Titles are also important. I've only been e-baying for 6 weeks. And so far, I've learned that:
BNWT means brand new with tag
BNWOT means brand new without tag
SZ means size
7.
Pricing.
In a drop-down window at the bottom of your page you will be asked to fill in a price. You are absolutely free to put in whatever you want in there of course. But try to stay clear of 00. If you want to sell your item for 200 for example, just put in 199. I don't know, it looks...better that way. I guess the brain will register the 1 better than 2.
8.
Listing period.
Another drop-down window will ask you how long you want your item "listed." That means, how long do you want your item available for bidding? 3, 5, 7 or 10 days?
9.
Mode of payment.
Usually, ebayers include their preferred modes of payment in the item description. You have many options as a seller:
a.
Meet-ups. Cash on delivery
. Choose crowded, public places to ensure your own safety. Malls connected to the MRT are good.
b.
Shipping. Bank deposit
. When you're busy you might also opt to just ship the item. Shipping costs are of course shouldered by your buyer.
There are plenty of couriers around.
Air21
(of Fedex) hasn't let me down yet.
LBC
and
2Go
are your other choices. Before you ship, make sure that the buyer
has already made the deposit
to your bank account.
c.
Shipping. Gcash
. I'm not sure how this works, since I don't have a Globe line. But if you're a Globe subscriber, you can use your phone to receive payments convertible to cash. I think.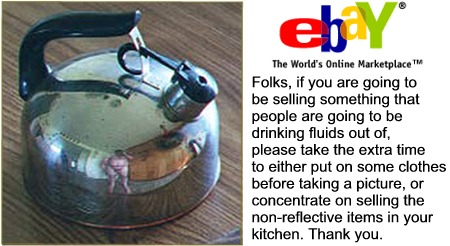 10.
Transaction Policies.
These are guidelines to help both you and your buyers during the transaction period. These are clear rules your customers must follow should they decide to buy the item. Remember, this is the Internet. There are plenty of
crazy people
on the internet.
To give you a better idea, here is an example of an item description with the details on mode of payment and policies :



Pre-owned Kamiseta cream corduroy skirt. Size: Large. In very good condition, no tears, scratches or stains.





Length: 15 inches




Waistline: 32



++++++++++SOME REMINDERS TO ENSURE A HASSLE FREE TRANSACTION. PLEASE READ CAREFULLY BEFORE BIDDING. THANK YOU+++++++++++

1. The burden of picking up item is entirely on the buyer's shoulder. I will not go out of my way to meet you anywhere else than indicated here. If you can't pick up your item, just let me ship it.



Air21 rates for shipping in Metro Manila:




500 grams: P77


1 Kilo: P99


2 Kilos: P104.50

Rates will vary for shipping elsewhere.


2. Transaction must be completed in not more than 7 days. (From the time I inform you of your winning bid to the time you receive your item).


3. I am online everyday. I check my e-mail at least twice every day. I am completely aware of all movements in my "virtual store." Please be advised.


4. Bidders with 0 feedback (either first timers or people who've no clue what they're doing) will be contacted. This is to ensure that you actually check your mail and you really want to purchase the item. For those who do not respond in 2 days (48 hours), your bid will be

cancelled

.




5. For Buyers who do not respond to notification of winning bid within 48 hours, your item will be relisted and you will receive appropriate feedback.


6. I have no return policy unless indicated.


11. Feedback. This is an all-important feature because it serves as a "policing" mechanism at Ebay. At the end of each transaction, both Buyer and Seller will give each other feedback. Are you happy with the promptness of you buyer? Did s/he follow your policies?

In the end, you will build a reputation through your feedback. You will receive either a Positive, Neutral or Negative feedback. Anyone can see this information, including future buyers or people perusing through your items on offer. So if you want people to bid with confidence on your stuff, it helps to be straightforward and honest and collect as many positive feedbacks as possible.

So there. I have tried to be as brief and precise as possible. Ebaying is a great way to make some money on the side as well as get rid of your junk at home. Remember they can be other people's treasure. Enjoy.