An interesting
link
I found through
KapeniLatteX
. Pamie writes:
We came up with a plan. Each of us would order something adventurous (but not as adventurous as the Burger Steak) and if everything we ordered was terrible we'd come back and order the one-dollar Yumburger. Couldn't go wrong.

We were wrong.

I ordered the spaghetti and fried chicken meal with a banana langka pie and headed back to a table. Stee followed.

"Holy cow, that stuff smells funny," he said. "Can I look at it?"

I got all superior here and scolded, "You are going to have to be a little cooler, okay? Everybody else here is eating the food and enjoying themselves. We can't be complete assholes. How are we ever going to be able to travel?"

stee didn't seem to hear me, because he was staring at the spaghetti. "Don't eat that. Oh, look at that! Dude. There's hot dogs in your spaghetti. And cheddar cheese. And chunks of... what is that?"

I felt my stomach wiggle, just a little. "Ham."

"Ham!"

And even more interesting are the comments her readers post
here
.
Some scathing reactions:
bluepaolo:
I love Jollibee for what it represents. It's not for you. It's for Filipinos. You have to understand that Filipinos generally love everything culturally American. The long lines at McDonald's in the Philippines where a poor family will spend a week's wages as a special treat for their kids is simultaneously both amazingly great and sad to me. Other Asians and Asian Americans routinely slam and denigrate Filipinos as being sort of like 'uncle tom' Asians. Their problem, not ours. I love the fact that we take both eastern and western cultures and make it our own.

Jollibee, to me, is a step forward. It's Filipinos saying, "hey, we love the whole idea of American fast food, but we don't really like the taste - let's reinvent it for ourselves" It's not for you.

krasnaya:

Jollibee is VERY POPULAR among Filipinos. It is SO POPULAR in the Philippines that McDonalds had to revise it's menu to compete with Jollibee. Do you know that in the Philippines you can order spaghetti (not much different from Jollibee's product), fried chicken and some rice meals from McDo? Yup, even the highest in the international totem pole of fast foods know that it cannot argue with nationalistic taste buds.
sweet_angel:
I am a Filipino based in the UK. How I came across your website, I have no idea! Reading your 'adventure' in Filipinoland was a bit to read. And you're true in saying that you've been utterly rude. But then again, whatever you say about Jollibee, it will always be a popular and well-loved food chain for us, the Filipinos. I miss it so much, however yucky you think their food is :)). And definitely will visit it on my next trip to the Philippines, with my British husband, of course (he loves Jollibee's 'Champ' and 'peach-mango pie'!).
sydney:

I think that everything you and your friends did was offensive, horribly provincial, and in excruciatingly poor taste. It does not speak well of your proudly (I presume) Texas education—or

any level

of education at all for that matter, to make fun of food. At least not when world hunger persists!!
sambri:
I think that some of the anger on this forum is misdirected. This isn't a case of American Imperialism, nor is it a case of intentional disrespect for a cuture. Pamie and her friends were simply surprised by their dislike for this version of Filipino food. As she had mentioned before, she had Filipino food before and she liked it, so who knew?
banana_republic:

pamie, just to let you know that not all Filipinos are troglodytes whose world is centered on Jollibee and would like to create an international incident over crappy fast food. Apparently a lot of them were able to escape the guys in white and got access to a computer; we will try not to let that happen again.

Please forgive them, it's either their mothers dropped them on their head in infancy or maybe their parents were first cousins.
XxX:


to the filipinos,
kayo naman o, alam niyo na nga na tanga, pinatulan niyo pa. tama na. wag na tayong bumaba sa level nila. alam naman natin kung sinong nasa tama. wag na kayong pumalag. sila ang may atraso, may araw din na may manglalait sa mga mabababang uri na katulad nila. ty mga pre.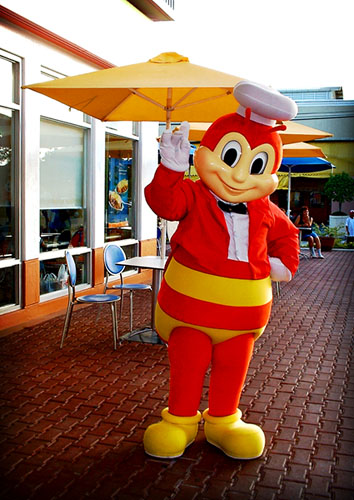 Lesson learned? It would serve any foreigner well to do a bit of research before they write about anything Filipino because:
1. Most of us speak and write English (at least) passably well. We will read and understand what you write and will be more than willing to retaliate.
2. Even if auto-lambasting is our national sport, we take exception to other people telling us what we already know ourselves.
3. Filipinos will kill for Jollibee.
Oh, and keep reading the posts on the forum. Its fucking hilarious :)