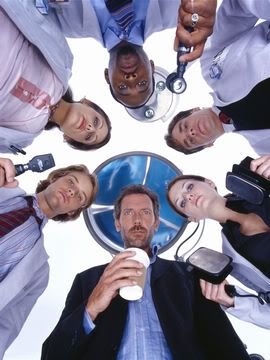 1. You come to believe that hyperintelligence is cool and hyperintelligent assholes cooler.
2. You philosophize about life more than usual. Little quips like "Truth begins in lies" begin to make sense.
3. You know that people lie in general, but you never really dwell too much about it 'til the end of Season 2.
4. You now know that bodily fluids are expelled from your oral cavity in three ways: it sprays if its from the stomach, you cough if its from your lungs and it oozes if its from your bowels. Vomit-laced feces. Yum.
5. You start thinking doctors are cool. And you wonder why you didn't become one. Then you remember you were the very last person in your sophomore class to prick your finger for that microscope experiment. You didn't even actually do it yourself, you had your groupmate do it for you.
6. Dr. House starts to remind you of your genius but highly flawed rockstar politics professor. You are drawn to how brightly they shine but remember how badly they burn.
7. You think David Shore must be God and Hugh Laurie Jesus.
8. You now know you can die from teeny tiny microbes or virus or bacteria or parasites or toxic and irradiated materials. You can die from almost any harmless-looking thing and increasingly become paranoid about what you touch, what you eat and drink, where you breathe, who you speak with...
9. You know what an MRI and a CT Scan are. You know what intubation, lumbar puncture and biopsy procedures look like even though you've never spent more than a total of 24 hours (tops) in a hospital in your lifetime.
10. You love having soon-to-be-doctors friends who are just a text away for geeky medical trivia.